New Orleans Bike Rentals & Tours
Discover New Orleans magical secrets from the seat of a bike.
Home - Why Rent A Bike - Where To Ride - Bike Rental Pricing - Special Deals - Location & Contact Info
French Quarter Location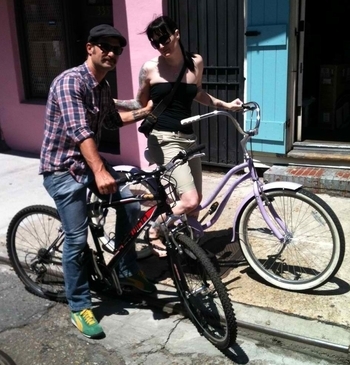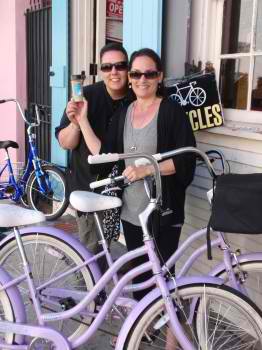 Our bicycle shop is conveniently located no more than a five minute walk from many of the city's best lodging accommodations.
Specifically, we're at 231 Dauphine St, which is in the French Quarter just 1 block from Bourbon St and 2 blocks from Canal St. We are between QT Pie Boutique (corner of Dauphine and Bienville St) and the Museum of Death. Other businesses on our block include the Martin Welch Art Gallery, Killer Poboys, B & B Florist, G20 Apparel, Deannie's Seafood and more. Normally, we have bikes out front.
Are you arriving at the bike shop by car? Metered, on street parking is available in front of the bike shop. There's also covered, off street valet parking down the block, covered parking around the corner and several parking lots a block or two away.
Although the French Quarter is laid out in a grid, the rest of New Orleans is not. If you're looking to get to the bike shop from outside the Quarter, we'll be happy to offer directions to the store by phone, text message or email.
By the way, the bike shop was formerly located nearby on Burgundy but we outgrew it. While the building on Burgundy was more historic, our current location is larger and in a cool, hip block of Dauphine St. where it's neither a ghost town at night (Burgundy St) nor obnoxiously loud and crazy (Bourbon St), making Dauphine a more pleasant connector between local lodging accommodations and restaurants, tourist attractions & bars/nightclubs.

This website is a service of RideTHISbike. To book a tour or bike rental, call 504-324-2492.
---
Home - Why Rent A Bike - Where To Ride - Bike Rental Pricing - Special Deals - Location & Contact Info
This page created & maintained by
Areafocus
, Inc. All rights reserved.